Trust & Tech – a German Perspective on working in Finland
15 Feb 2019 by Maria Kotaniemi
A while ago I made a dive into the Berlin tech scene and talked with two developers working in Berlin. This time I decided to change the perspective and ask a German developer about how it is to work in Helsinki, the home city of Talented.
A Frontend Enthusiast from Bavaria
I met Matthias Kern at the Talented office in a very wintery Helsinki to hear his story. He started by telling me it's a bit confusing one. Matthias is from a small town close to Nürnberg in Bavaria, southern Germany. Matthias' story of how he originally came to Finland seems to be one that some of us can relate to, as it starts with him being a young adult and moving to Finland for love. So he ended up in northern Finland in Oulu, where he decided to study computer science at Oulu University of Applied Sciences. He tells me he wasn't looking to become an engineer before starting his studies, but that he got really passionate about it.
So even though his relationship ended, he had found one true passion – technology and coding. He ventured forward and spent a year abroad in Dublin, studying at Dublin Institute of Technology. Matthias told me that after the year in Dublin he wasn't really sure about where to go next. He felt a little ambiguous as he didn't have any strong ties bringing him back to Finland. He still decided to come back and finish his degree.
At the moment Matthias' is mostly dealing with frontend technologies at his daily work. He is currently working with React, but very interested in all new technologies, especially web-native technologies. He says his foremost passion is understanding the user and creating holistic approaches, as the whole architecture of web applications becomes more and more important as the frontend grows bigger.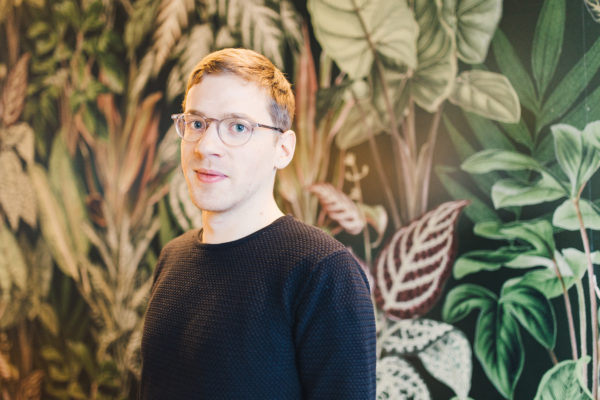 Matthias Kern at the Talented office in Helsinki
Reaktor – A Fast Recruitment Process Made a Good First Impression
During his studies, Matthias worked as an intern for the startup IndoorAtlas. Later, one of his former colleagues asked him to join him at a small consulting studio. During this time he came in contact with Talented, as they were using the Talented Network as one source for work gigs. After one and a half years of consulting Matthias decided it was time to take the next career step, so he applied to the Talented Network to see what opportunities there were in the tech scene in Helsinki. He was introduced to several companies and did some interviews, but decided to go for the offer by Reaktor as he had been impressed by their recruitment process from day one.
He says the whole process was extremely nice from start to end. There was communication and he got answers fast. He had several discussions with different companies ongoing but decided to leave them as Reaktor made an offer so quickly. When it comes to other reasons for choosing Reaktor he says it was their organisational model that made the biggest impression and that he has enjoyed himself very much to this day. Reaktor is kind of self-governed and everyone does what they think is best for the company. This means that everyone will consult and communicate with their colleagues and ask for advice from each other, but in the end, every employee is entrusted with making the decisions they feel will lead to the best business results. Matthias felt he was trusted from day one and that there is a deep-rooted trust in everyone's skills within the organisation.
Trust in Finland vs. Rules in Germany
I asked Matthias what he thought was the "real" reason he came back to Finland and he says he has been thinking about that himself as well. He says one of the reasons must have been the good experiences he had during his studies when he worked for IndoorAtlas. He says there was a lot of freedom, even for someone with less experience. He was trusted with his work and that gave him the confidence to go forward and develop his skills. He says that trust, not just in his work, but in him as a person, was one of the things he valued from day one.
The work ethic in Finland is something Matthias appreciates a lot. There is not a lot of hierarchy or reporting and all employees are trusted to do their best effort. He says this feels different from the general working culture in Germany. At least the Finnish tech sector seems to be mainly guided by flat organizations with loads of autonomy and empowered employees who are passionate about what they are doing. He feels that if he'd go back to Germany there would be more restrictions, as the working culture is more based on rules. However, this is probably changing a lot in Germany as well.
When it comes to working culture in Finnish tech companies, Matthias can, of course, speak only from his own experience, but he had an interesting thought that maybe it is the scarcity of and distance in between people that makes us trust each other in Finland. When there are few people far from each other you need to rely on each other and trust each order to get through, and that builds a society based on trust and collaboration.
Aside from trust, the lead-word of this blog post, Matthias mentioned that he really appreciates the work-life balance in Finland. All companies and people seem to be very concerned with maintaining this and people mostly work strictly 7,5 hours per day. Then there are the other rather obvious benefits such as good healthcare, great and free education, and good public schools and these type of things that make Finland a very liveable place. Compared to Germany there is also considerably less bureaucracy and everything is digital. You never need to worry about standing in line and personally having to go to a public office during certain hours as most things can be done digitally. Paperwork is at a minimum and he felt it was very easy to move to Finland.
Impress the Locals with Your Finnish Skills
Matthias has been living in Helsinki for over 1,5 years now and feels it is a better place than Oulu, that got a little too dark in wintertime. He says that Helsinki is very nice as it is compact and rather small, but still has a good offering of cultural activities and restaurants. Even though Matthias speaks Finnish, he appreciates that almost everyone speaks good English, so it's always easy to get by. He says that it's worth learning Finnish just for the reason that Finnish people are very easily impressed by a foreigner that knows Finnish. Helsinki might not be the city for the ones craving a super metropolis of a city, but it is a perfect balance of internationally-minded professionals, culture and close-by nature. The closeness to nature is especially nice in the summertime. Of course, it would be nice to get some proper German food and beer once in a while, but Matthias says he goes back home three to four times a year.
He says the Helsinki tech scene has just the right size. There are more meetups than you can go to, so just enough to develop professionally and so that you can find something that tickles your fancy.
German Corporates, Open Source and ReasonML
At the moment Matthias is working at a big project at Reaktor. The client is a big German company with a highly-trafficked website with millions of daily users. He says one of the interesting parts in the work is that, as the company produces a high-volume service, the team from Reaktor can really make an impact with things they change. In this project, he has also encountered the differences between working in Finland and Germany. As the client is an old, rather traditional company, their working culture is much more based on hierarchies and there are often cultural clashes with the Reaktor team that is self-organised with lots of employee autonomy.
Working in Finland has so far been a good experience for Matthias. When I asked him about what he would bring back to Germany in terms of working culture it would definitely be the concept of giving people ownership and empowering and trusting them in their work. He says that any organisation should make sure to give the individual the resources and confidence they need to do what needs to be done. This is what has empowered him personally at Reaktor and what makes him thrive.
In his spare time, Matthias has been contributing to open-source projects and programming on his own. He has discovered ReasonML, a modern syntax built on top of the OCaml programming language, and found joy working with it in his spare time. He has also attended the Reason conference as well as took part in organising a ReasonML event in Helsinki. He hopes to be able to introduce ReasonML in his daily work at Reaktor at some point.
So what does the future look like? Matthias seems to be content with snowy Helsinki for now and says that part of the fun is not making too many plans about the future – he's happy in Helsinki.
Talented is the Talent Agency for experienced developers and members of software development teams. With us, you can explore 140 top-tier companies' work possibilities in Finland and across the globe. We'll connect you with the opportunities that match your personal interests, criteria and career ambitions the best. It's free.